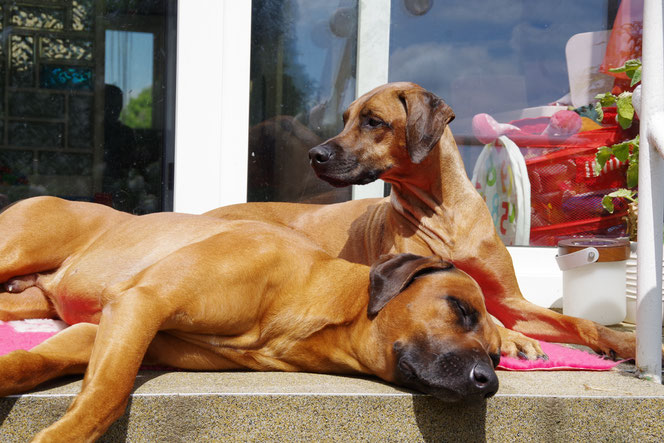 So here we go! This is my first entry in this blog and first blog entry EVER. I hope it is not going to be the last one since I have many things I would like to tell, to share, however time I have very little.
But back to the topic. This blog will be about our Rhodesian ridgeback kennel (FCI registered) MY AMBERNOSE, our Rhodesian ridgebacks, dogs in general - in particular, training, behviour, our travles with dogs and experience with kids + dogs. From time to time we will test some new dog (or kid, haha) gear and will share our opinion over here.
And at the moment the most important - it will be also our puppy blog! Yes, we are expecting a litter out of Dea and Garet and I hope you will enjoy reading our posts! 
I will try to keep the blog bilingual in Latvian and English. I do speak Russian and some French though, so should you wish to contact me please fee free to chose any of those languages. 
************************************************************************************************
Nu tad aiziet! Šis ir mans pirmais šī bloga ieraksts un pirmais bloga ieraksts vispār. Es ceru, ka arī ne pēdējais, jo ir daudzas lietas, ko es vēlētos pateikt, ar ko padalīties, bet brīvā laika daudzums ir niecīgs.
Tomēr atgriežoties pie tēmas par blogošanu. Šis blogs būs par mūsu Rodēzijas ridžbeku audzētavu MY AMBERNOSE (reģistrēta FCI), par mūsu Rodēzijas ridžbekiem, par suņiem, jo īpaši par audzināšanu, apmācību un raksturu, par mūsu ceļošanu ar suņiem un par mūsu pieredzi ar suņiem + bērniem. Laiku pa laikam mēs testēsim kādu no suņu ekipējuma lietām (vai arī bērnu lietām, haha) un dalīsimies šeit ar mūsu viedokli.
Un pats galvenais! Šis būs arī mūsu kucēnu blogs. Jā, mēs plānojam Rodēzijas ridžbeku metienu no mūsu Deas un Gareta un es ceru, ka jums patiks lasīt mūsu bloga ierakstus! 
Es centīšos bloga ierakstus veidot divās valodās - latviski un angliski. Es zinu arī krievu un franču valodas, līdz ar to, ja vēlaties sazināties ar mani, varat izmantot jebkuru no šīm valodām.